Coarse Screen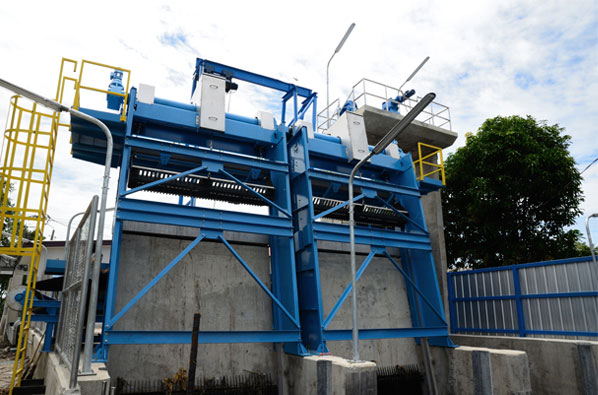 Model CS1  is designed and built for removal of large suspended solids.  The mechanism is rugged and easy to operate.  Grab carriage can run to the lowest position to sweeps up the trash which settled on the floor, thus the cleaning is so efficient.
The cleaning is made possible by grab controlling through 3-cable motion. Two cables are used for lifting and lowering of grab, while the other is for opening and closing of grab.   On downward position the grab runs in open position until reaching the floor or obstruction, where the slack line sensor sends a signal to close the grab, through turning the swiveling rollers whereby the length of the center cable is changed and close the grab.   Then the lifting motor runs into reverse motion lifting the grab upward for discharge above floor. In automatic operation the cleaning sequence is repeated continuously until all suspended solids are removed.
Cleaning at any Depth
Model CS1 employs the slack line balancer that will activate and start several cleaning motions at different depth until the surface is cleared off all floatable.   The same kind of action is repeated for heavy deposits on channel floor until the bar screen get thoroughly cleaned.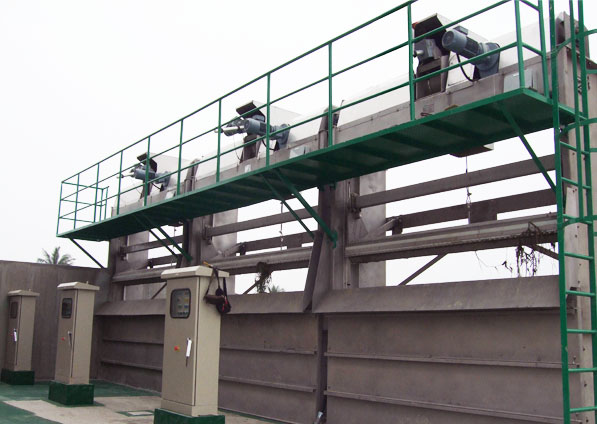 Rake Teeth Penetration
The toothed rake can be adjusted to regulate the penetration of the toothed tips between the screen bars.   This finer adjustment permits Model CS1 to rake all finer trashes, which plugged between bar screen.
Fully Automated
The drive can be set to time or level difference function to start and stop automatically.   The control is so designed that warnings such as 'rake does not reach channel floor', 'cable rupture' or 'electrical failure' can be shown when screen malfunction.
| | | | |
| --- | --- | --- | --- |
| Chamber Width (m.) | 1.5-2.0 m. | 2.0 – 3.0 m. | 3.0 -4.0 m. |
| Mean Lifting Capacity | 200 | 300 | 400 |
| Max. Lifting Capacity | 400 | 600 | 800 |
| Lift/Lower motor (kw) | 1.1 | 1.5 | 2.2 |
| Control cable motor (kw) | 0.75 | 0.75 | 1.1 |
| Cable diameter (mm) | 10 | 10 | 13 |
Model CS2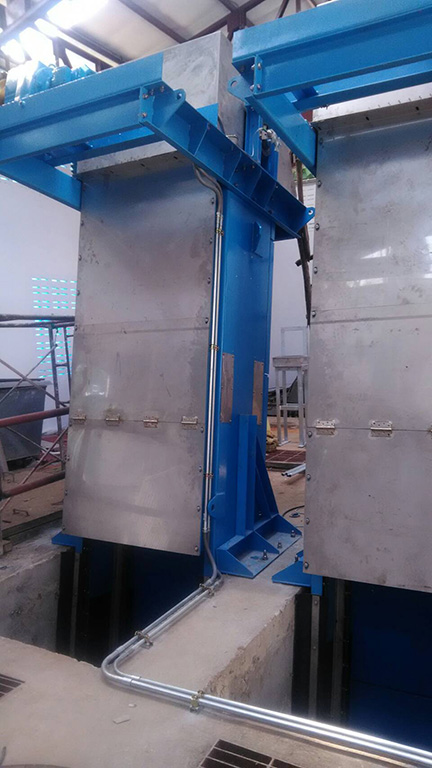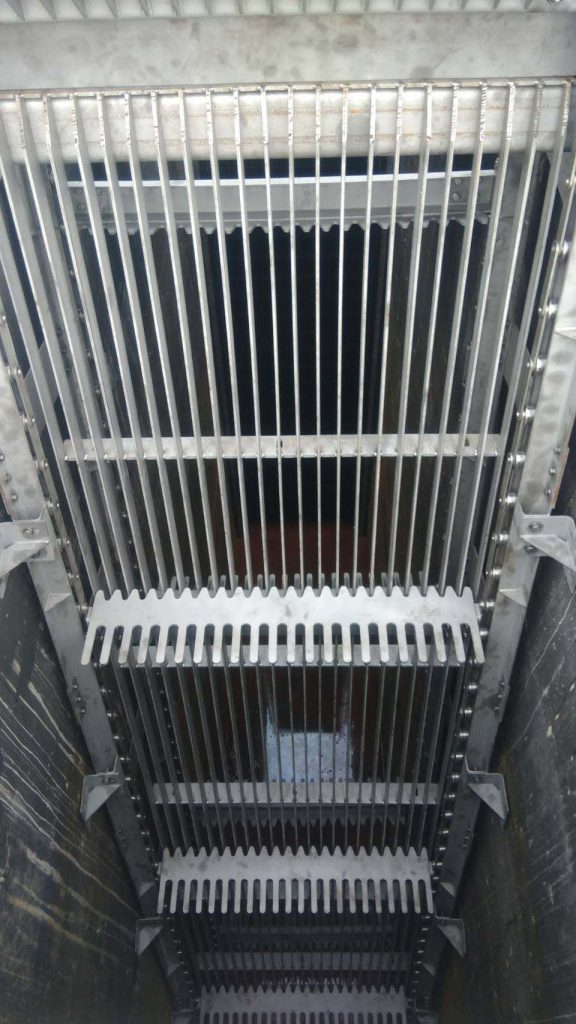 Coarse Screen Model CS-2 is of Chain rake type.  A number of rake tines are attached to the revolving chain, when rotated the rake tines scoop up trashes in front of screen and deposit it behind.  This type of screen is also used often before pumping station, and water outflow applications.  They can be made to any steel or stainless steel of various grades depending on customers requirements.
This model CS-2 can be made into electro-mechanical drive or hydraulic drive units.  The hydraulic drive units can be designed and made to have one power unit serving several screening units.  This arrangement will make maintenance workload much less than normal.
Coarse Screen – Climber type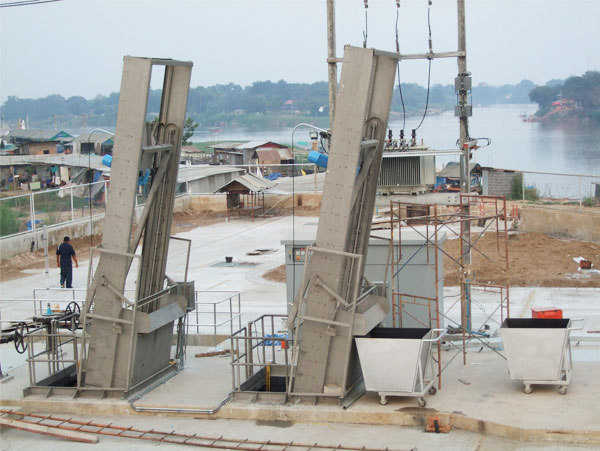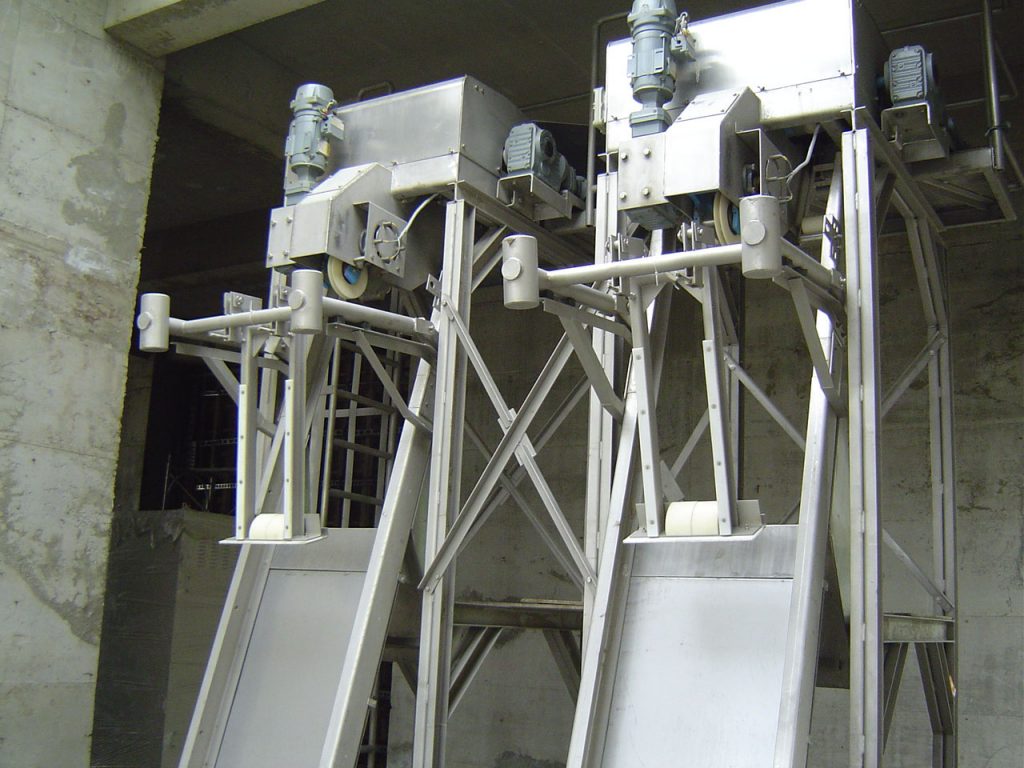 A3 also made some climber screen mainly for waste water pumping station.  Climber type is well-known in its simple design and heavy duty applications.  Electric motor gear of hollow shaft type with both ends having pinion gear.  These pinion gears run on chain rail attaching to side frame of the machine.  Rake arm is connected to the drive, and thus move up and down the path of chain rail.  Maintenance is easy and usually be done above floor level.  Climber type is suitable in not so deep channel, or small applications.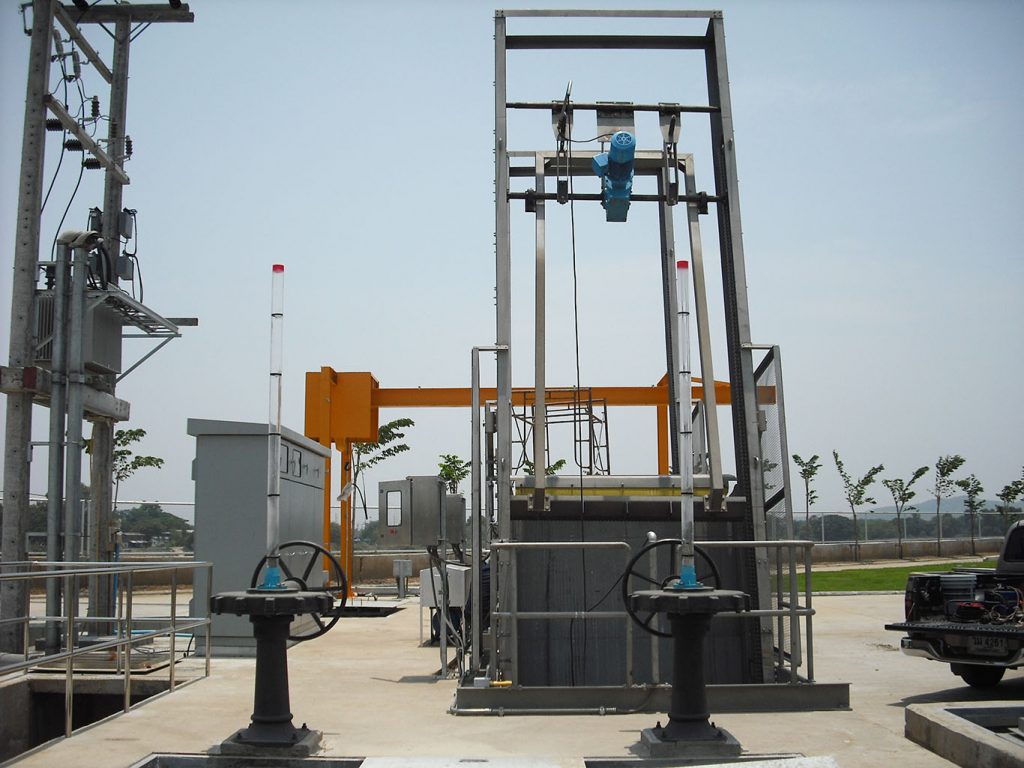 Coarse Screen – Travelling type
Travelling type refers to screen unit which has mobility function.  We make two types of travelling screens.
First, the travelling screen – hoist type, where the cable operated screening grab is hoisted from an above rail assembly.  This type is suitable for using only one cleaning unit to clean several screening channels.  Operation is fully automatic from grab move to its designated channel, descending, clean screen, ascending, to final movement to discharge trashes at its designed dump.  Then move on to next and next channels.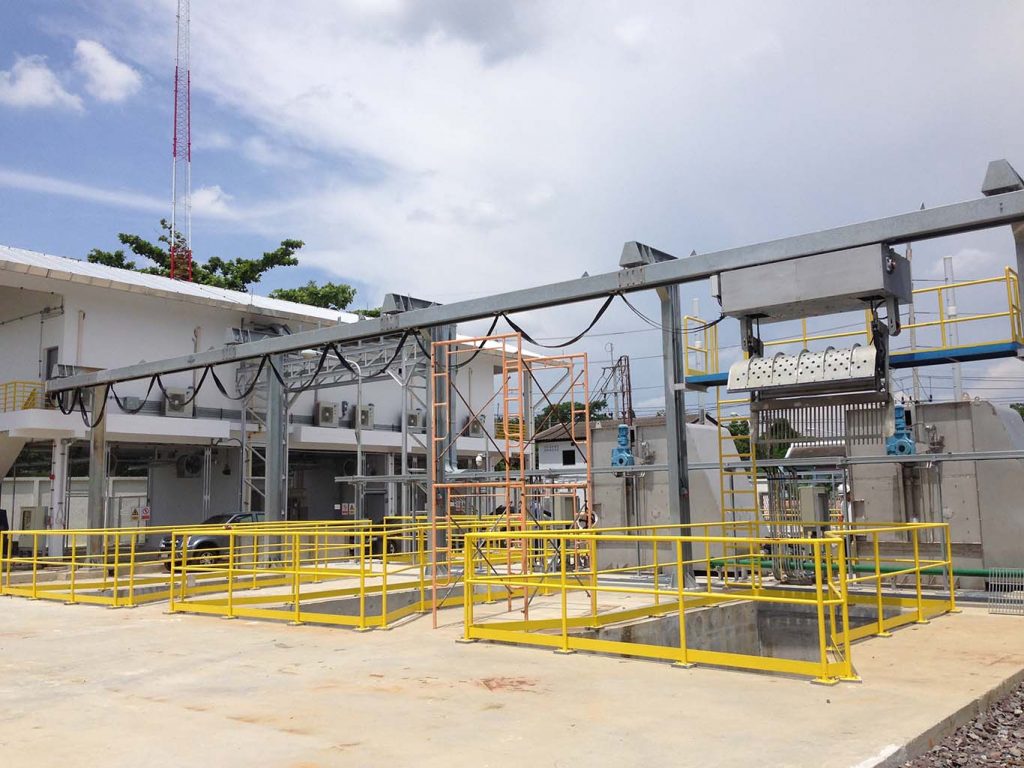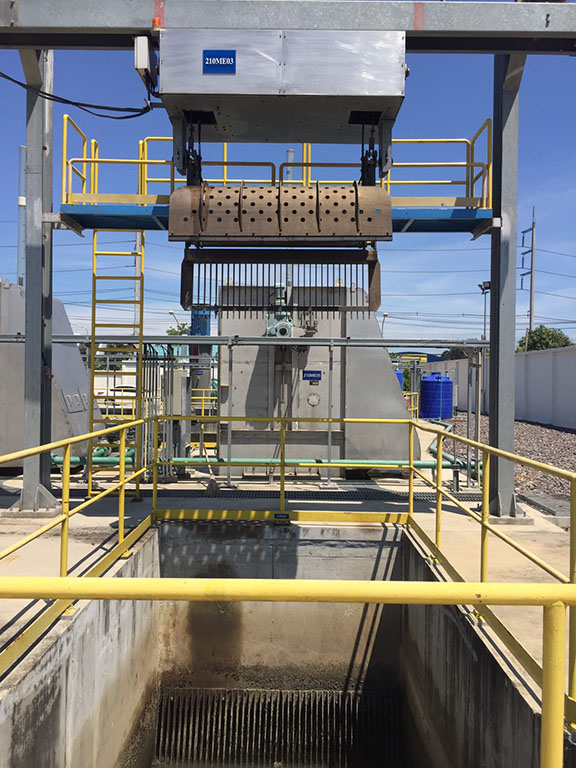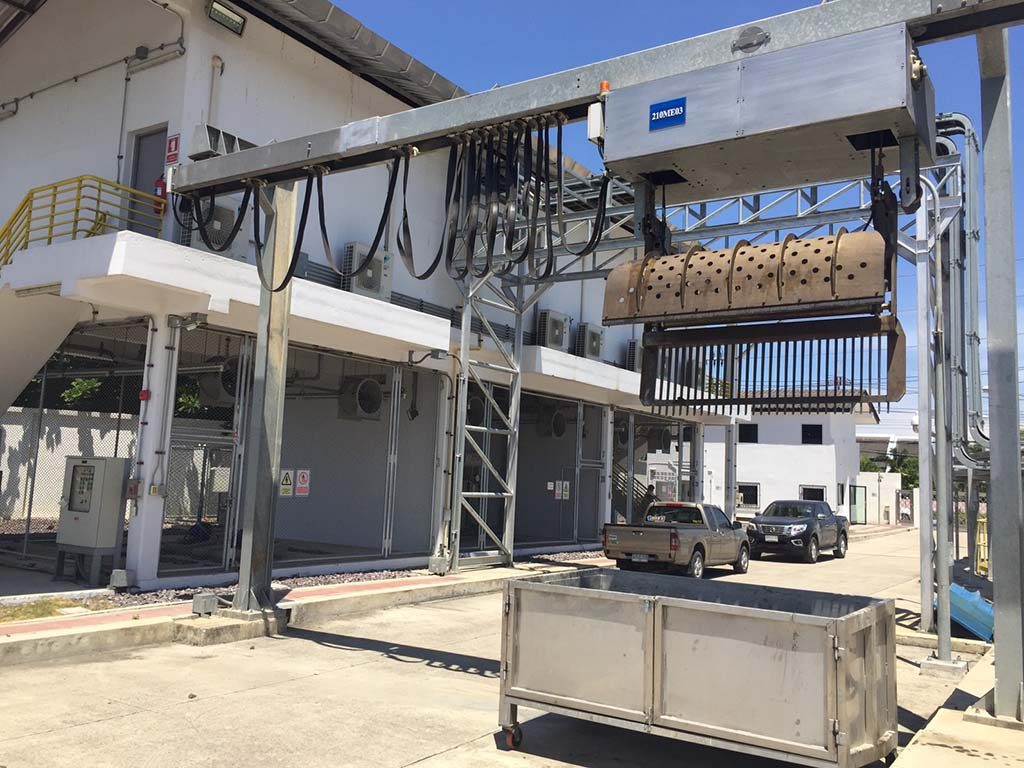 Second, the travelling screen – trolley type, where big trolley which include the screening unit and bucket move along double rail laid on operation floor.  This trolley type trashes is scooped up and deposits in its own bucket which is a part of machine frame.  The whole structure moves along rail to its working position automatically.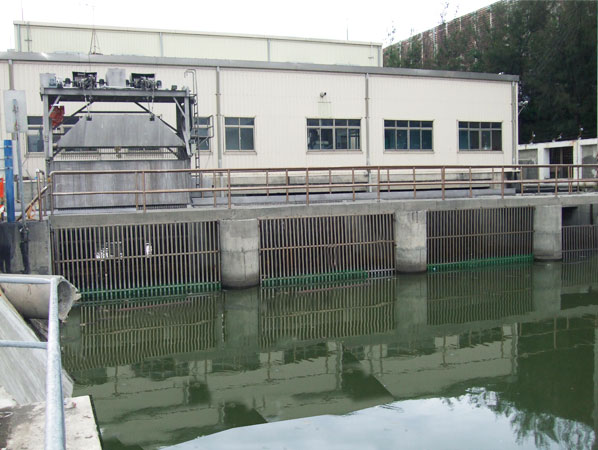 This trolley type travelling screen fits for very large pumping station, where trashes are usually very heavy like logs and floating plants.  Design is simple and proven.  Many units we made are still operating perfectly after a decade of service.