About Us
Our Company
Association of Three Co.,Ltd. is a manufacturer of equipment for the "environmental industries" (the Three in the company name are earth, air and water, not people!).
We started this company in 1993 and has built it into a very successful organization supplying equipment for water and wastewater treatment throughout Asia and beyond. We have an excellent staff and workforce, many of whom have been with the company for more than 20 years, and we make equipment which is technically superior, developed by the expert knowledge of our staff. We have a flexible and very capable manufacturing team, so we can make each unit as you need it, to match your exact requirements.
From 2004 we have expanded our field of activity into the "earth" part of Association – Solid Waste. This will also benefit our third environmental discipline, "air".
We design and fabricate equipment to suit your particular requirements. Our main products are described here, but we do make other items to order. We are flexible and innovative, seeking to continuously develop our capabilities. If there is a product which you would like us to make for you, please ask and we will give your requirements detailed consideration.
Even though our equipment is very high quality, you will find it is not expensive.
We make a variety of equipment for water, wastewater and solid waste applications. This is a short summary of the items more fully described in "Products" elsewhere on the website.
Our Trade Record
We have produced much equipment over the years with repeat orders from satisfied customers. In the last ten years we have produced:
150 WateRRake fine screens
100 WateRRake coarse screens
80 Mix&Move conveyor and compactor systems
100 sets of PlastiChain chain and flight scraper systems for rectangular clarifiers
40 sets of PlastiChain chain and flight scraper systems for rectangular DAF plants
18 travelling bridge systems for grit or sedimentation tanks
150 CenterDrive units
30 bridge units with scrapers or thickeners for circular tanks
Over 300,000 Dair diffusers to complete 258 orders
20 MicronBubble DAF plants
30 composting Facilities for Municipal Wastes
1 combined Biogas Composting Facility for Municipal, Food, and Market Wastes.
We concentrated initially on water and wastewater equipment, but since 2004 we have also built our solid waste and composting machinery. We will continue to be creative.
Our Achievement
1996: Built and installed equipment for over 20 WwTWs in Thailand
1997: Manufactured our first WaterRake Fine Screen
1998: First to manufacture driveheads with precision bearings – CenterDrive
2000: Supplied kit for largest Rectangular Clarifier in Thailand – PlastiChain
2001: Produced DAir membrane.  Higher temperature tolerance and higher tensile strength than any competitor product
2003: First Thai wastewater company to achieve ISO 9001: 2000
2003: First Thai manufacturer to supply complete screening system to Bangkok Municipal Administration
2004: Major export order for Wastewater Treatment in the Phillipines
2006: Major export order for  Wastewater Treatment in Taiwan
2007: Contract to supply specialty aeration system to Shell, one of the world's biggest companies
2007: First municipal waste composting project in Thailand
2008: Expansion of manufacturing facilities to a second factory close to our base.
2008: First Thai 'Environment Machinery' company to achieve ISO 9001-2008
2010: Initial startup of Trommel Screen Production for Thailand Market with the cooperation with Tim Envipro A/s Denmark
2010: Design and Build the very first Thailand Combined Biogas Power Plant/Composting Facility from Municipal and Food Wastes in Korat,  plant capacity is 230 TPD
2011: First Export order of Trommel Screen to International Market
2012: Contract on Operation of Municipal Solids Wastes Treatment Facility in Mae Sai Municipal, Chiengrai Province.  We take the full overall responsibility of the plant we had built for 3 years against a fixed dumping charge per ton.
2016: Re-certification of ISO 9001:2015
Our People
We have a team of fifty, and whilst we will not include them all here, these are the principal technical people you may be involved with:

Thepthai  Udomchanya.
Thepthai is our company founder and Managing Director, Thepthai is a mechanical engineer with a master's degree in Environmental Engineering from University of Florida, USA.   Thepthai's creativity and desire to produce only high quality equipment has been the strength of our business.

Vithawas Hutamecalin. 
Vithawas is Director and Process Specialist with a degree in chemical engineering and master's degree in environmental engineering. He is responsible for much of the innovative product development which has made our products so successful.  Vithawas is also a founder of our company in 1993.
Engineers

Chaiwat is our Mechanical Engineer who oversees the sales of Solids Wastes Treatment Machinery, as well as  performs design consultation for clients on Solids waste Separation Plant.  He joined us in 2007.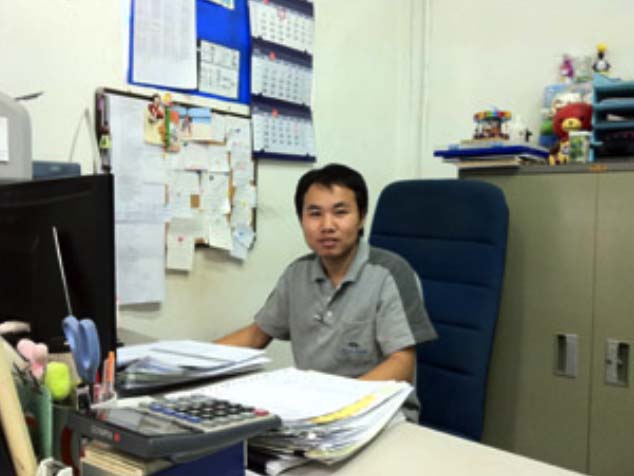 Pongsak  joined us in 2006, He performs engineering , production, installation and commissioning of various water equipment, screens, DAF, Clarifiers.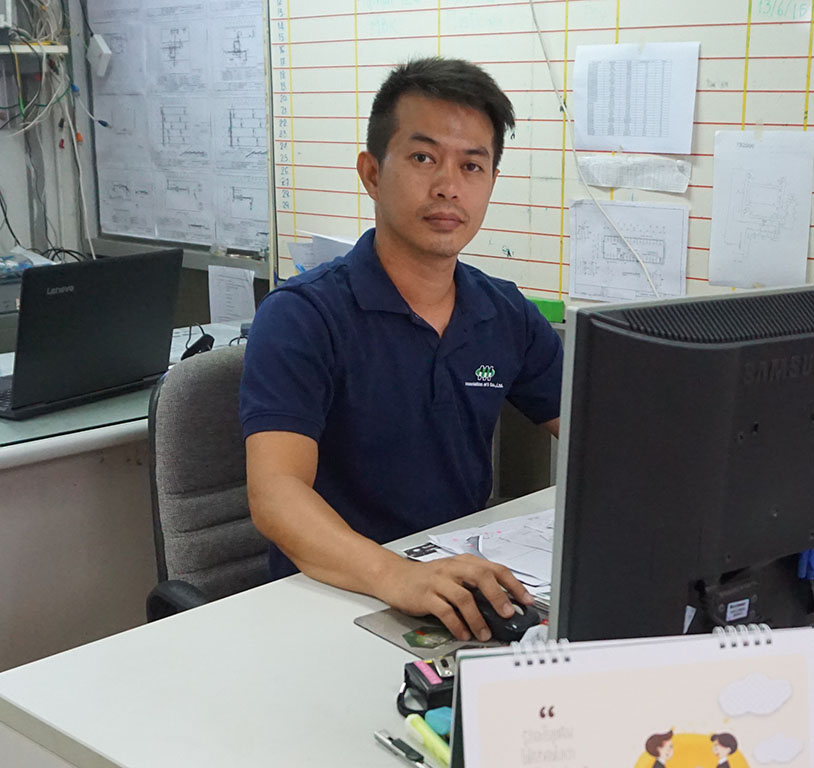 Raweewat also joined us in 2007. He is currently doing 3D Design of all Solids Wastes equipment for manufacturing.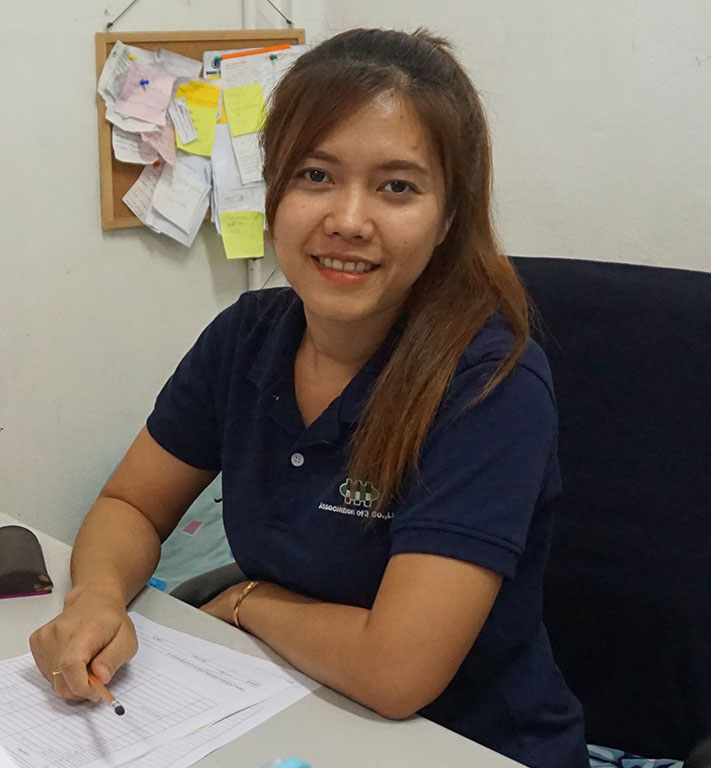 Saowalak joined us in 2009, She has a background in Mechanical Engineering.  Currently, she handles international sales.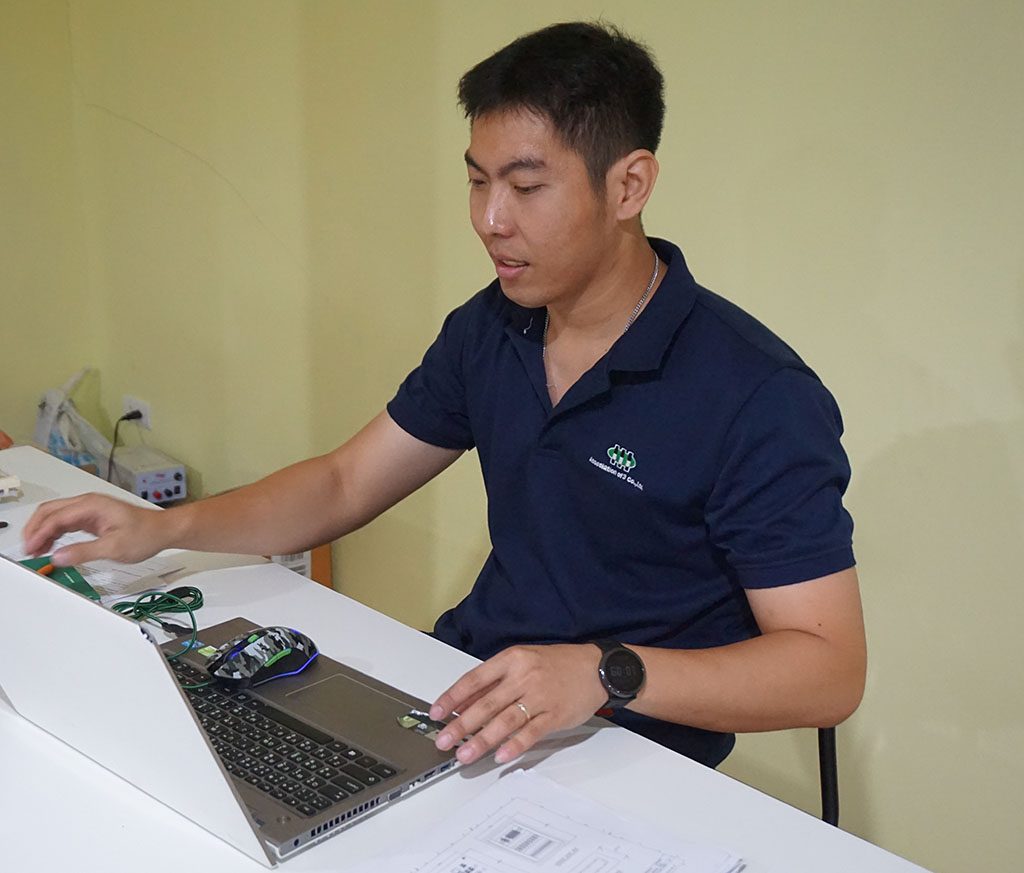 Thanapol joined us in 2011, He is doing all works related to Hydraulic and Control System.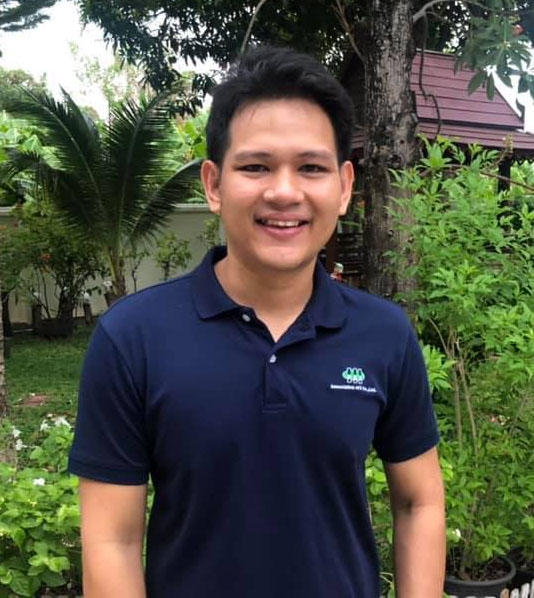 Hattaya joined us in 2014, He works in the same team as Raweewat doing 3D Design of Equipment to be manufactured.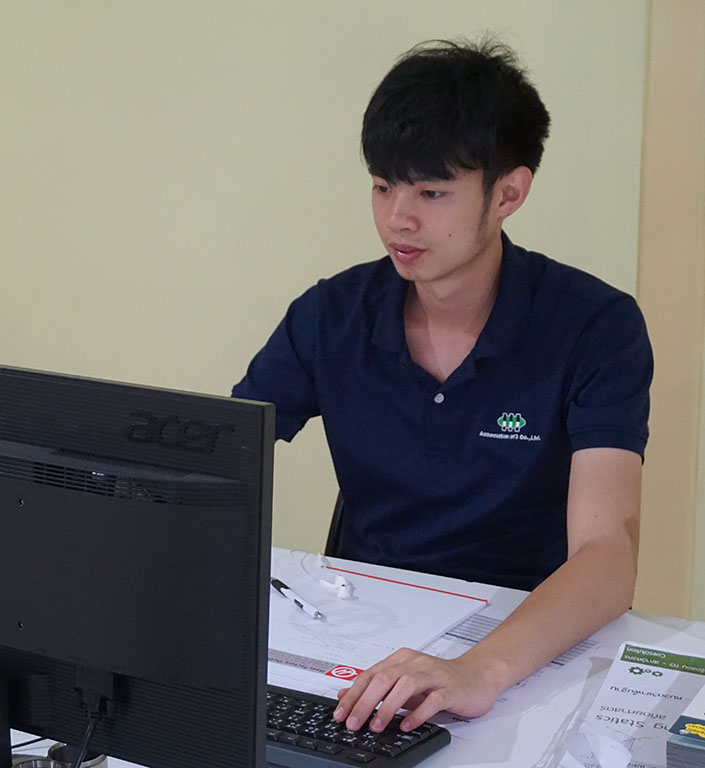 Ballung joined us in 2018, currently doing assembly work on Hydraulics and Control.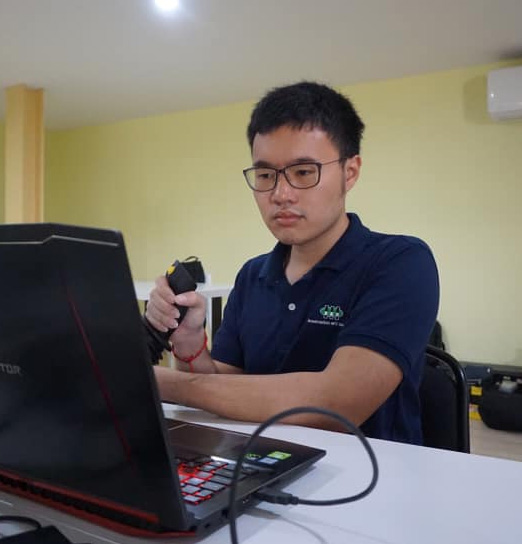 Jatedanai joined us in 2019, currently doing Control works.
Our Factory Staff
We have an enthusiastic team of engineers, technicians and draftsmen many of whom we have trained ourselves from young men who joined us in the factory.  Starting from our factory manager, Mr. Chat; head of draftsmen Winyoo and Nuphan; and Somjit, Pipat, Somsuk all having more than 15 years with us.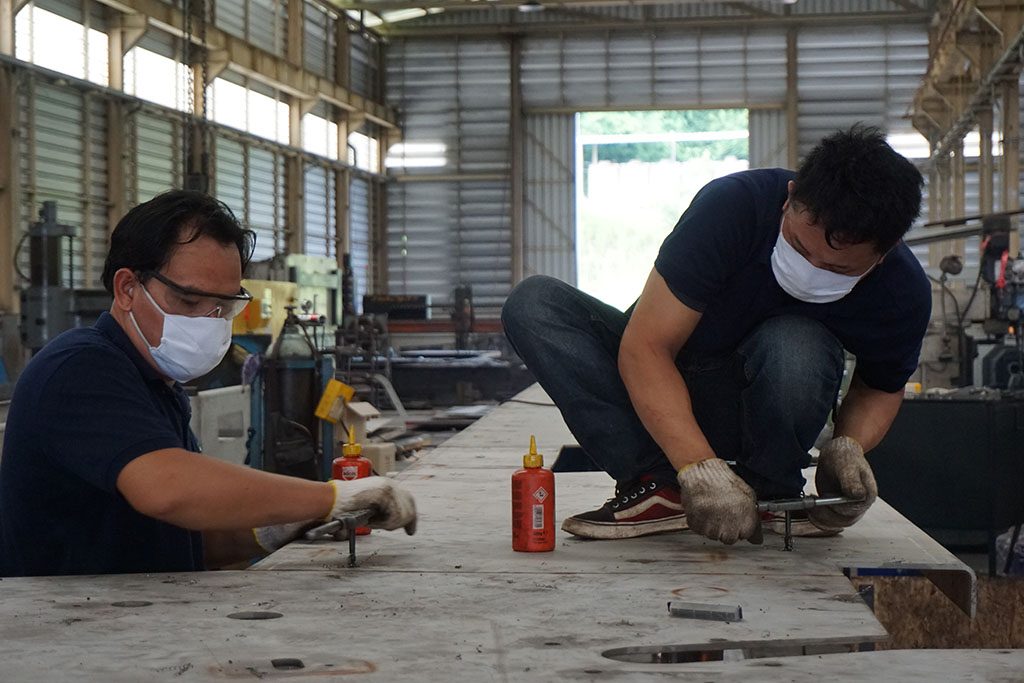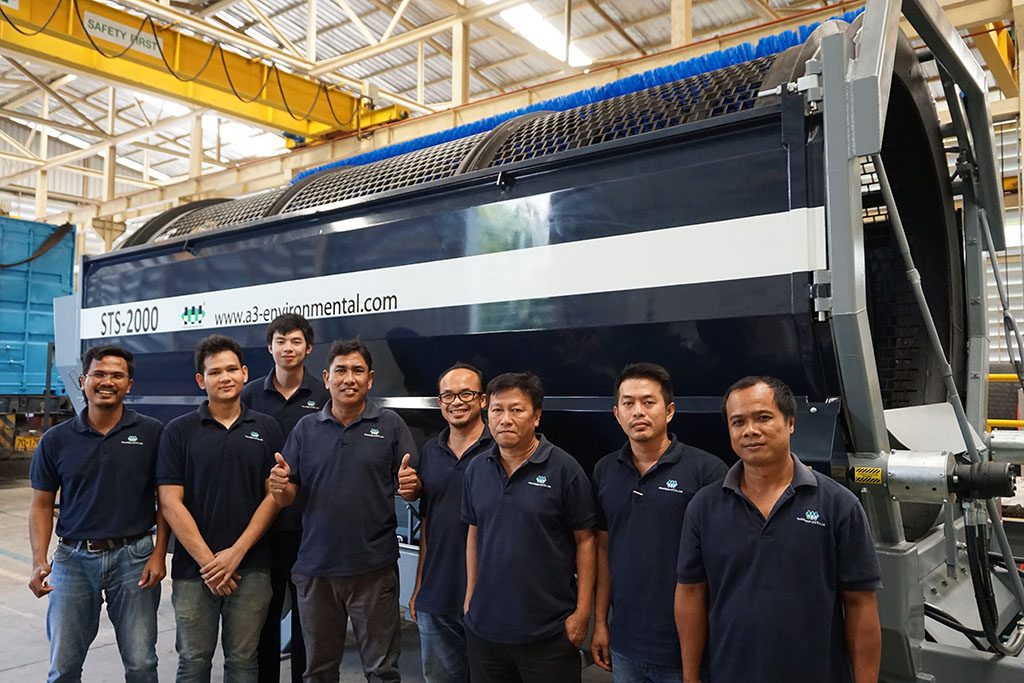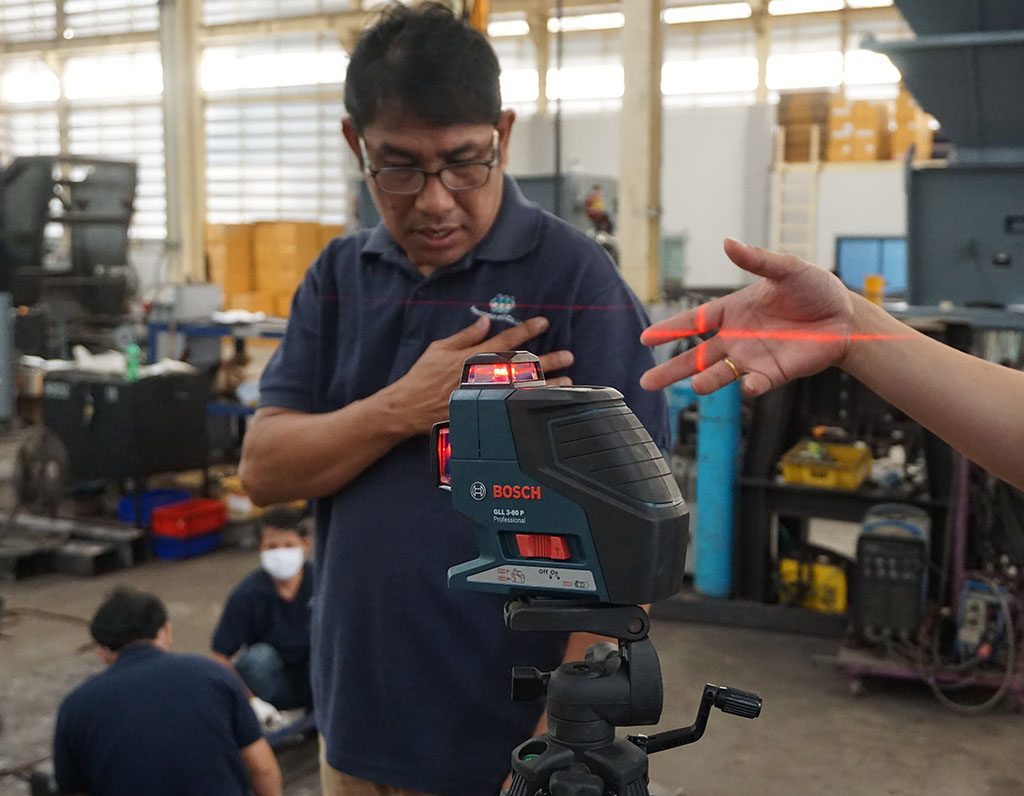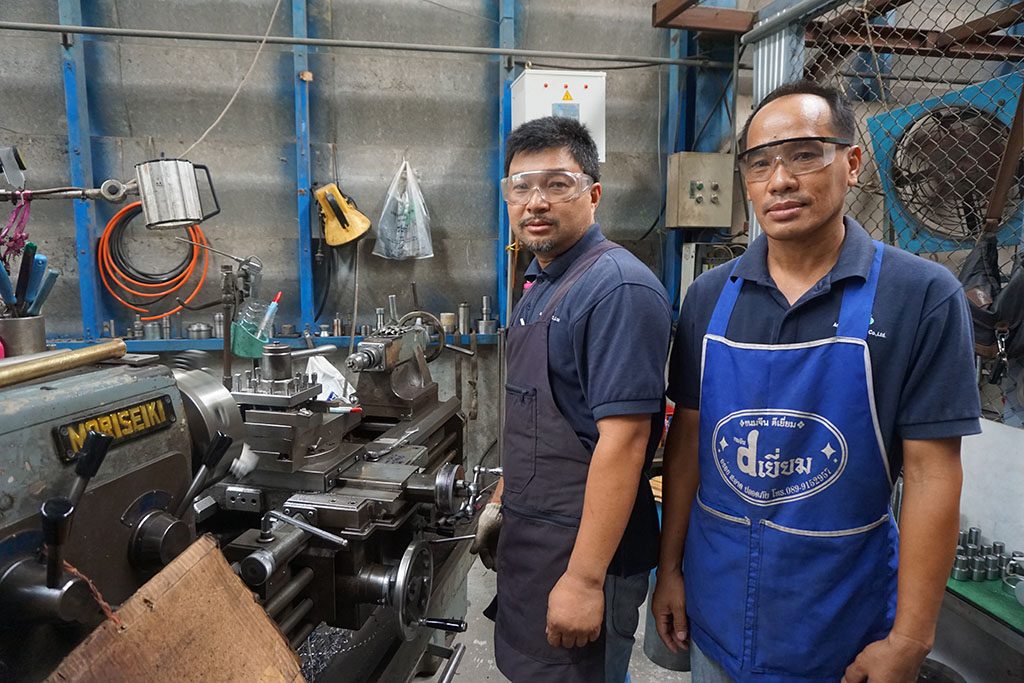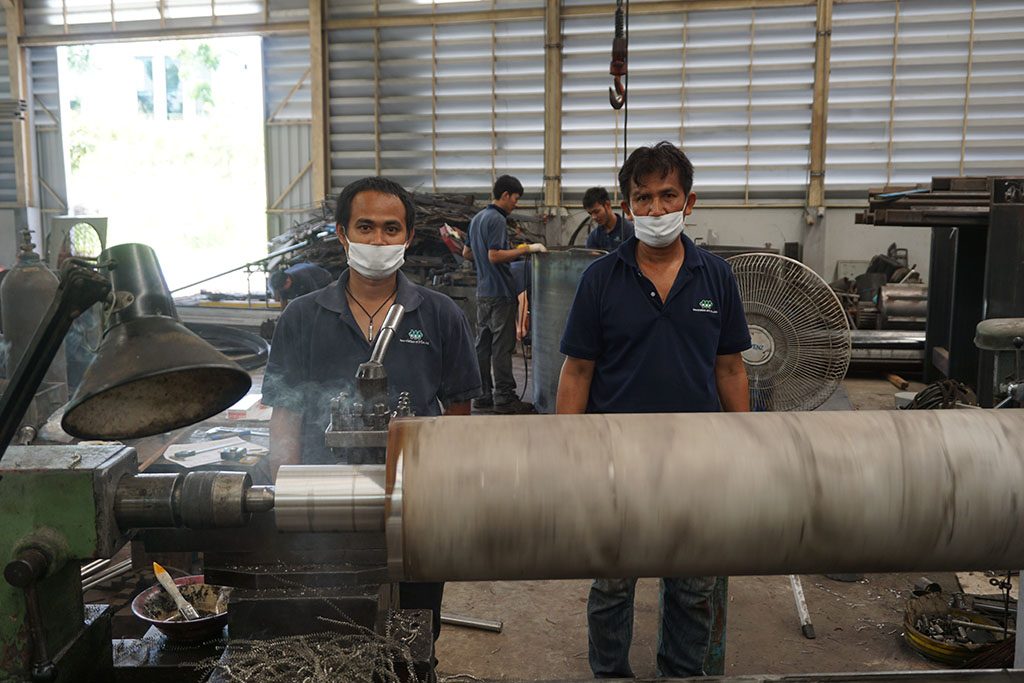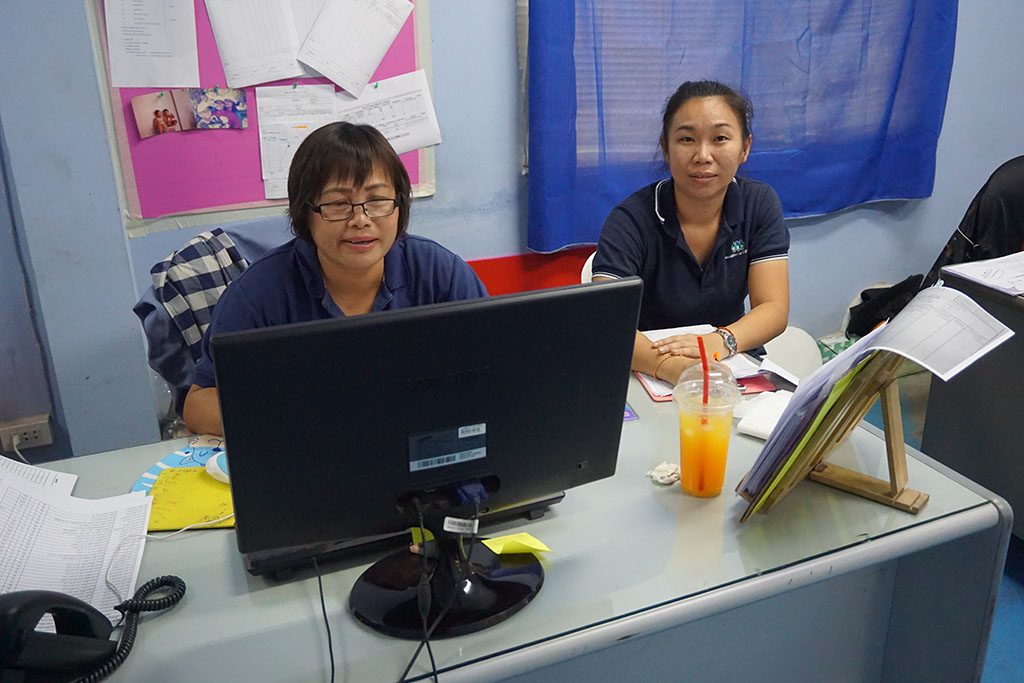 Our Facilities
Our office is sited just off Rama II Road, at Bangkhuntien, on the south western side of Bangkok, Our factory in Hub Bon, Sri-racha contain two units, the metal works shops of 3,000 m2, and an assembly compound of 1,500 m2. Works on equipment is 100% completed and tested before going out from our site.  And these are the administration staff at our Bangkok office.

Our Suppliers
We do subcontract locally the manufacture of many components, but for all of the items we subcontract we have developed the designs and specified the materials.   We are also working closely with international suppliers and many times develop new equipments together with the help of top international firms.
We have a very stable supply chain and work closely with them to ensure that we produce a consistent product.  Our systems were already organized so that we have achieved ISO 9001 certification since 2000, and we now have re-certification of ISO9001-2015.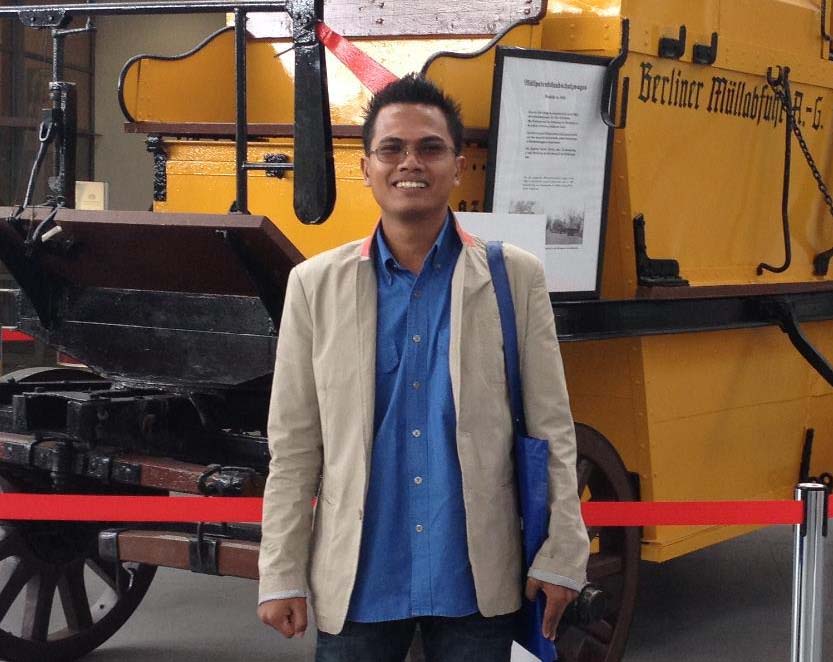 Prakasit is a soil scientist, who specialize in compost technology.  He is currently the force behind our development in composting machine and its operational aspects.  He joined us in 2006